Arancini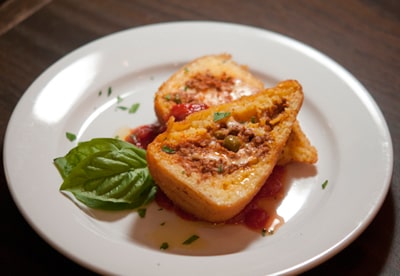 Sicilian Italian rice croquettes stuffed with cheese, vegetables and/or meat. Their name translates to mean little oranges.
Prep Time:
40 minutes
Inactive Prep Time:
2 hours
Cook Time:
1 hour
Serves:
About 4 to 6 arancini balls
Ingredients: Meat portion of arancini
1/2 cup minced onion, celery and carrot (mix together)
3 tablespoons olive oil
1 pound ground beef
Salt and freshly ground white pepper
4 ounces tomato paste
1/2 cup sweet peas
Ingredients: Rice portion of arancini
3 tablespoons extra-virgin olive oil
1 pound Arborio rice
46 ounces chicken broth
1 package saffron powder
3 ounces grated Parmesan
Freshly ground black pepper
Ingredients: for assembly of arancini
Mozzarella (1/2-inch cubes)
1 cup all-purpose flour
1 1/4 cups warm water
Bread crumbs
Vegetable oil, for frying (deep fryer with basket)
Part One: Meat Mixture
Sauté onion, celery and carrot with olive oil until they onions become translucent and the carrots are tender. Add ground beef and season with salt and white pepper to taste. Once beef is added, with a wooden spoon, break down any chunks; the beef should be as fine as possible. Add tomato paste and peas. Once the ground beef and tomato paste begin to simmer, turn down heat to low and cook for 30 minutes. Mixture should be thick. Let cool in refrigerator for at least 2 hours.
Part Two: Cooking the rice
Heat 3 tablespoons of olive oil in medium sized skillet over medium heat. Add rice (stir until evenly coated with oil. Add half of chicken broth and saffron, stirring continually. Once broth has been absorbed, continue to add small increments of broth, still stirring continually. Once all the broth has been absorbed, add cheese and pepper, the rice should be tender but "Al Dente". Pour rice onto a baking sheet and add some butter for extra flavor. Place in refrigerator for at least 2 hours. Rice should be able to form into a ball once cooled properly.
Part Three: Assembly:
Take handful of cooled rice; flatten while forming an indent in middle of the ball. Take a teaspoon or so of cooled meat mixture and mozzarella cube and place in the indentation of rice. Take another half of handful or so of rice and finish forming the rice ball. Once all rice balls are formed, dip each into water and flour mixture (combine 1 cup of flour and 1 1/4 cups of warm water with a pinch of salt and pepper), once evenly coated in flour mixture, coat in plain breadcrumbs. In a deep fryer, fry rice balls on medium to high heat until golden brown.
---
Linguini with Clam Sauce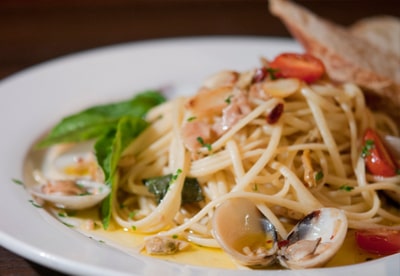 This dish's simplicity let's quality ingredients shine through.
4-6 servings
Ingredients:
1 lb of linguine pasta
25 littleneck clams in-shell
1 can of whole baby clams, shelled
1/4 cup onions, chopped
1/2 cup white wine
1 Tbsp. of butter
5 Tbsp. olive oil
1 Tbsp. of parsley
1/2 tsp. red pepper flakes
1/2 cup clam juice
1/2 tsp. sea salt
3 cloves garlic, chopped
1 Tbsp. basil
3 plum tomatoes, seeded and salted
Directions:
In an oversized pan, warm olive oil on medium heat. Once the olive oil is heated, add the onions and cook until translucent. Next, add the garlic and let cook for about a minute. Then add the wine, clam juice, sea salt, and red pepper flakes, let simmer for five minutes. After that, put in whole baby clams (shelled) and allow to cook for two minutes. Before adding the plum tomatoes, make sure you have seeded and salted them—this helps to eliminate any excess water. After the tomatoes have been added, stir and let simmer for five minutes, then add butter. Put in the clams with the shell and let cook with lid on for five minutes. Lastly, add the basil and parsley and let cook for a minute. Remember to gently stir occasionally so that clams do not break or separate from shell.
---
Meat Lasagna
Part One: Marinara Sauce
Ingredients:
1/4 cup of onions, finely chopped.
One clove of garlic (sliced)
3 tablespoons of extra virgin olive oil
Salt & pepper to taste
Two 28oz crushed tomatoes
One 6oz tomato paste
6/10 ounces of water
Directions:
In a sauce pot sauté garlic and onions in olive oil, until onions are translucent and garlic is lightly golden.
Add crushed tomatoes and 4 ounces of water and season with salt and pepper, let simmer on med to high heat for 15 minutes.
Add tomato paste and lower temperature to med/ low. Add more water depending on the desired thickness of the sauce.
Add Basil.
Cook for 30 to 40 minutes.
Part Two: Ground Meat
Ingredients:
3 tablespoons of extra virgin olive oil
2lb ground beef
Salt and pepper to taste
One tablespoon of nutmeg (optional)
One garlic clove (sliced)
Directions:
In a skillet sauté garlic in olive oil until lightly golden.
Add meat and season with salt, pepper and nutmeg.
With a wooden spoon break up meat as fine as possible until cooked.
Let cool.
Part Three: Cooking Pasta Sheets
Ingredients:
12 pasta sheets (one package)
Directions:
Bring a large pot to boil.
Add pasta sheets to boiling water (4/6 at a time).
Cook according to directions on box.
Pull pasta sheets out and place in large bowl of cold water for a minute.
Place on a non-shedding towel to dry.
Repeat process for the remaining pasta sheets.
Part Four: Assembling the Lasagna
Ingredients:
1 1/2 lb ricotta
1 lb shredded mozzarella
6 oz Parmigiano Reggiano cheese (grated)
Cooked pasta sheets
Ground beef
Marinara sauce
8×11 pan
1/2 tablespoon of butter
Directions:
Spread butter on the bottom and corners of the pan.
Put enough sauce to cover the bottom of the pan.
Place four pasta sheets to each layer.
On top of pasta sheets add sauce (making sure to put enough around the edges so it does not burn), Parmiagiano, mozzarella, meat and ricotta.
Continue layering to four layers.
Bake for 25-30 minutes, until the cheese on top has melted and turned light golden brown.
Makes 9 large portions or 12 smaller portions